This PAGE is not kept up to date as it is impossible with our poor internet service. If you have any questions, please contact us! We will send you our availability list with more details. We have A2/A2 Mid and Miniature Jerseys for sale as well as a few Isle of Jersey decedents- very small standards.
A2/A2 Registered Jersey Heifers for Sale
We currently have 3 A2/A2 Registered Jersey Heifers available. They are all halter broke, stanchion trained, and used to being touched all over. They are tested for BLV, BVD, and Johnes. We are a Brucellosis and TB free state. Just dreaming of a family of their own and due in the spring.

---
A2/A2 semen straws
We have collected two of our A2/A2 Mini sires. This is a pic of Homozygous Polled Lazarus when he was young. He should finish under 42″ tall at 3. Our mini bulls are all free of the Condro gene (dwarf gene), and tested for BLV, BVD, and Johnes. The straws are packed with 55 million plus sperm (the NAB standard calls for 15 million). They have top quality motility sperm rating and were raised on real milk for 6 and 7 months. Straws are $60
---
A2/A2 Miniature Jersey Bulls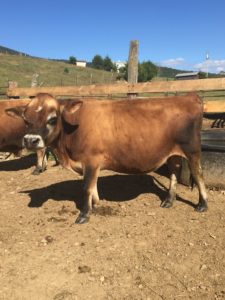 We have a couple A2/A2 mini bulls for sale. They are out of lovely fawn dams and we expect them to finish between 41″ – 43″ tall at 3.
For more information contact us.
They are all tested for BLV, BVD, and Johnes.
---
---
We currently have a couple of A2/A2 small standard weanlings for sale.
We are sorry if you contacted us and we told you that we were no longer selling any for 2016. We have decided to downsize our herd and sell every standard we have. Contact us for more info. They are all tested for BLV, BVD, and Johnes.
---
We often have others not yet posted.
Most of our calves/cows are not posted on this page as I don't enjoy the tech side of farming, our "high" speed is better than hand-crank but just barely, AND we're outside farming. 🙂
We have a few lactating A2/A2 Miniature Jersey and Standard cows that are for sale. We also have one A1/A2 mini heifer. If time allows, we will get them posted, in the meantime – email us.
---
For Sale – Registered A2/A2 Jersey Heifer Calf for sale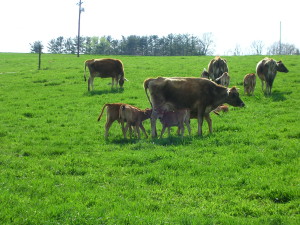 We are so pleased to offer you our Registered Jersey's with grazing genetics (why do we raise our cows on pasture?). They are robust, healthy, raised on real milk long enough to have a well developed rumen (Usually 4-6 MONTHS, not weeks). We feed very very little grain. To us, grain is mostly a bonding tool and a way to top dress supplements when needed. When you dam raise and don't grain, the babies are little wild March hares! So we offer a bit of "candy" to show them that people mean good things. Our personal milk cows will get a quart at milking time as a rule, especially in the winter. (why don't we feed GMO grain?) We use only A2/A2 sires. All calves are gentled from birth. Contact us for more information. Tell us a little about yourself and what you're looking for.