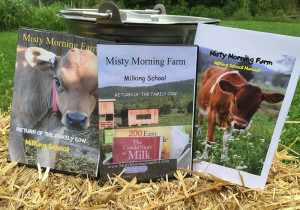 Milking School DVDs from Misty Morning Farm
Learn more about our complete Milking School DVD set here. It includes almost 6 hours of wonderful, informative lectures and demos. We've included the information you need to buy, milk, and naturally care for your very own Cud-Chewing Beauty Queen!
Now on Sale!
GET ALL 3 DVDs FOR JUST $80! (A savings of $28)
---
DVD 1 – Milking School Introduction
$49 (Sold Separately) (runtime: 2 hours, 18 min)

Milking School DVD, Disc 1 is sold separately and includes an interview with Dr. Paul Dettloff, the foremost American authority on the A1 vs A2 mutation issue. In this DVD, Dr. Paul shares his perspective on the following subjects:
A1 mutation – which is linked with several health issues
Why Dr. Paul highly suggests feeding kelp to our calves and cows
Vaccines and Dr. Paul's recommendation of homeopathic options
The top 5 herbal products Dr. Paul says every barn should have
Milking School – Disc 1 also includes:
Hands on milking how-to's as well as a user friendly electric milker option
A pasture walk to learn how to do simple rotational grazing and up to double your production of forage, improve forage varieties and quality, minimize many weeds naturally, draw earth worms, improve soil fertility and make your pasture more drought resistant – all very simply
Calf demos of giving a shot, teaching to lead, tubing and more
---
DVDs 2 & 3 – The Return of the Family Milk Cow
$59 (2 DVD set) (runtime: 3 hours, 24 min)
At Misty Morning Farm we want to help you cultivate your own sustainable, chemical-free source of dairy products. Our concerns about conventional farm practices led us to go the opposite direction in many ways. Now, we enjoy teaching others what we have learned. We believe that your cow should be an asset, not a liability. Click here to learn more about the way of do things at Misty Morning Farm.
In these 2 DVDs, we include:
How to buy hay that will sustain a growing calf and a lactating cow
How to feed your cow for optimal rumen health and to avoid many health issues
How to treat and supplement your cow naturally
Can my cow stay healthy on the products from my local feed store?
Where are the health food stores for my cow?
How to avoid and treat Mastitis, Milk Fever and Ketosis, (the 3 scourges of dairy cattle)
Breeding (including an Artificial Insemination explanation and demo)
Calving: Tips & Timing
How to train and handle a new calf
The PROPER time to wean your calf from REAL milk and why?
How to share milk with your calf
Cheese making tips and other dairy product ideas to inspire you
Other subjects important for owning and caring for your family cow
Companion manual is included.
Note: Much of our DVD's were filmed during a live Milking School event here at Misty Morning Farm, so you will hear the rooster singing, cows mooing and other natural farm sounds.
Now on Sale!
GET ALL 3 DVDs FOR JUST $80! (A savings of $28)
Learn more about this incredible learning system here!
---
Consultations Offered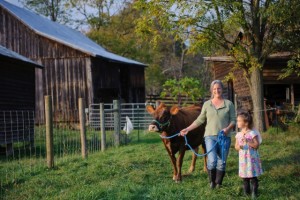 We find that so many times, people just want to ask us a few questions and learn. Now there's a way you can do that. Contact us with ideal times, telephone #, and we'll send you a Paypal invoice or you can send us a check for $45.00/hr. We also welcome farm visits for the same. We also now include a free DVD of our one hour presentation called "The Return of the Family Milk Cow" that is full of great info.