Bring the Hands-On Farm Classroom to Your Home!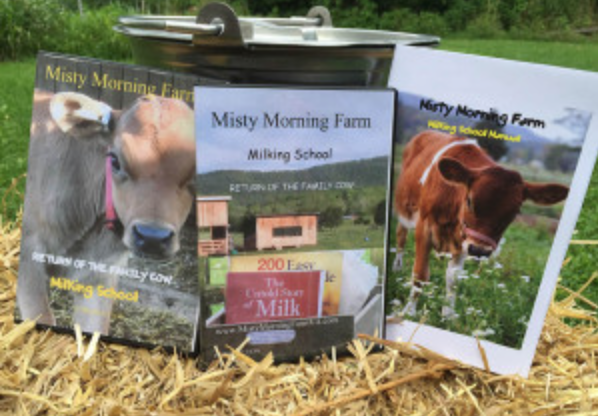 Your free gift is on it's way to your email!
(If you didn't get your free gift, you can grab it here)
Owning a family milk cow is a bit more complicated than raising an heirloom tomato, however with coaching you can do it!
Let this DVD be your guide & your mentor as you raise your very own Cud Chewing Beauty Queen.
This resource will help 1st time milk cow owners learn the ropes..
"We never even owned a gold fish, but now we have a cow!"
–Paola, TX
Hello Fellow Farmers & Future Farmers,
We teach an all-day intensive training on raising your own family milk cow. We called this comprehensive class 'Milking School'.
In the Milking School DVDs we teach you how to train your first cow with expert tips and tricks. How do you get a cow to walk on a lead rope without her running you over? How do you teach her to stand still for milking without fighting the stanchion? What do you feed her so that she develops a hearty rumen for excellent health? Better yet, what is rumen anyways!?
We realized that not everyone could come to our home to learn, and we knew that there was a real need to have a visual guide for raising your own cow. With you in mind, we have developed the Milking School DVD set.
It will also help experienced owners transition their animals to a more natural lifestyle.
Some topics include: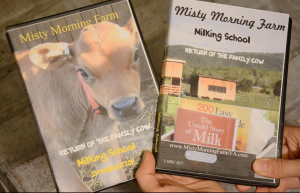 How to feed your cow for optimal rumen health, and how to buy hay,
How to train your calf, when is the PROPER time to wean your calf from milk, and how to share milk with the calf,
How to treat the cow naturally! We discuss sourcing health food stores for cows, and we answer questions about whether or not your cow can stay healthy on the basic minerals offered at your local feed store,
How to avoid and treat mastitis without drugs. We also discuss how to avoid and treat milk fever and ketosis. All three of these are the scourge of dairy cows. We also teach you to familiarize yourself with testing options.
How to do simple rotational grazing to reduce weeds, improve forage variety and quality, and how to make your field more resistant to drought. In short, we want you to learn how to heal your land and draw earthworms to improve the soil fertility the easy way.
Let us take you by the hand and help you navigate the world of raising your own milk cow. We invite you to join us in the revolution we lovingly call 'The Return of the Family Milk Cow". You are among a wonderful group of the growing real-food and slow-food movement.
Still not sure? Hear what others have been saying about this incredible learning experience:
"I just wanted to thank you again for offering Milking School. Your program is complete and professional while still being basic enough for us beginners. Your passion for the health of our cows is obvious and contagious.

After being able to observe other cows, I'm much more confident about her condition and behavior. It's hard to go from 25yrs of gauging condition of horses' bodies to cows. Everything in me is still screaming that she's skinny. But I believe that she is actually a bit on the fat side (no ribs visible at all – and barely palpable).

I've got a better understanding of hay than I had before too. With horses, it's almost relegated to something to keep them busy, that also supplies the last little bits that grain doesn't. With cows, it IS the diet. I hadn't realized that I'd be pickier over hay now than when I had an elderly thoroughbred."

–Deb

______________________________________.

"We've owned our little milk cow for a little while now, but I was amazed at how much your information helped me further my understanding! I took a pasture walk on our property Sunday afternoon and found that I had completely new eyes for what I was seeing. The plans for moving Eva out of the paddock and into the pasture shifted into high gear. We are way past the "graze 1/3, trample 1/3, leave 1/3" rule. I was also thrilled to see that most of the patties were covered in little holes. I didn't see any dung beetles but it was late in the evening and getting cool!

Thank you again for all of the hard work that went into providing us with a priceless resource."

–Paula

______________________________________

Long before we started our farm project in 2005, I dreamed of owning a milk cow. The desire fueled by the promise of fresh, wholesome milk, creamy butter, endless tubs of yogurt and round after round of delectable cheese never waned. The countless number of projects that had to first be completed before bringing her home taunted me like the carrot before the horse but like the tortoise, we kept the steady pace. Over the winter we tackled the last big hurdle of fencing the pasture. Tromping through snow and slush and eventually boot-sucking mud we secured her domain. It was then that I knew the dream was soon to be a reality and I began looking for our perfect cow. The prayerful search led to Misty Morning Farm in the Shenandoah Valley where we found our beautiful Jersey girl, Delilah Rose. Last Saturday we brought her home to the farm. I struggle to find the words to describe the feeling of completeness she brought to the farm and to my heart. It's every thing I hoped for and more. Now, more than ever before, this feels like a farm and I feel like a farmer. With joy in my heart and a smile on my face I stand looking out onto the once empty pasture at my sweet girl happily grazing the dew-kissed grass and thank God and my family that I finally HAVE A COW!

–Wendi